IMPORTANT UPDATE:
In September 2023, the UK Government made significant updates to their over-all targets for Net Zero. Some of our articles relating to energy legislation provide timelines which are now inaccurate. We therefore have an updated summary for proposals and dates mentioned post 2023. For the latest updates, please see:
Government changes to EPC's and gas boiler legislation – Finch (finch-app.com)
Are your landlords ready to get their Energy Performance Certificates' Energy Efficiency Rating to a C by 2028?
The consequence for non-compliant landlords are financial penalties of up to £5,000 per property. This article is set out to address the up-coming changes within the private rental sector, and advise agents on best practice for their landlords. The penalties are:
Renting out a non-compliant property
Providing false or misleading information on the PRS Exemptions Register
Failure to comply with a compliance notice
What's currently required by the landlord for their Energy Performance Certificates?
From October 2008, properties being let or sold in England and Wales require an Energy Performance Certificate (EPC).
"An EPC gives a property an energy efficiency rating from A (most efficient) to G (least efficient)" – GOV.UK.
In 2018 a Minimum Energy Efficiency Standard (MEES) was introduced, requiring all properties to be let to meet an energy efficiency band of E. Any properties within the bands of F or G can not be let and need the landlord to take appropriate action to comply. The cost relating to the landlord's appropriate action has a financial cap of £3,500 and includes actions such as loft and wall insulation, upgraded boiler, double or triple glazing, etc. Beyond this maximum cost, a landlord can apply for an 'All improvements made' exemption and will be awarded the EPC to let the property.
2018 saw the MEES applied to the issuing of new certificates. Certificates are valid for 10 years and from the 1st April 2020, this was extended to all existing tenancies. This now means that an EER of E or above is required for a landlord to let their property, or an 'all improvements made' exemption needs to be registered.
What is the long-term action plan for Energy Performance Certificates?
An EPC Action Plan was created in September 2020 by the Department for Business, Energy & Industrial Strategy along with the Ministry of Housing Communities & Local Government. The plans laid out by these departments have 2035 as the target for as many homes as possible to have an EER of B and C. Changes were suggested for the Standard Assessment Procedure (SAP) for EPC's throughout 2022 with an expected roll-out of the consultation in 2028. Topics being consulted upon included:
Reducing EPC validation periods
Raising the maximum spend landlords are required to invest to £10,000. This initially had the proposed requirements applying to new tenancies from 2025 and to all tenancies by 1 April 2028. But following further consultation and lobbying from Propertymark and the NRLA claiming the date to be unworkable, the deadline of 2025 has now been extended to 2028 (as of 28/03/2023).
Minimum Energy Efficiency Standard Timeline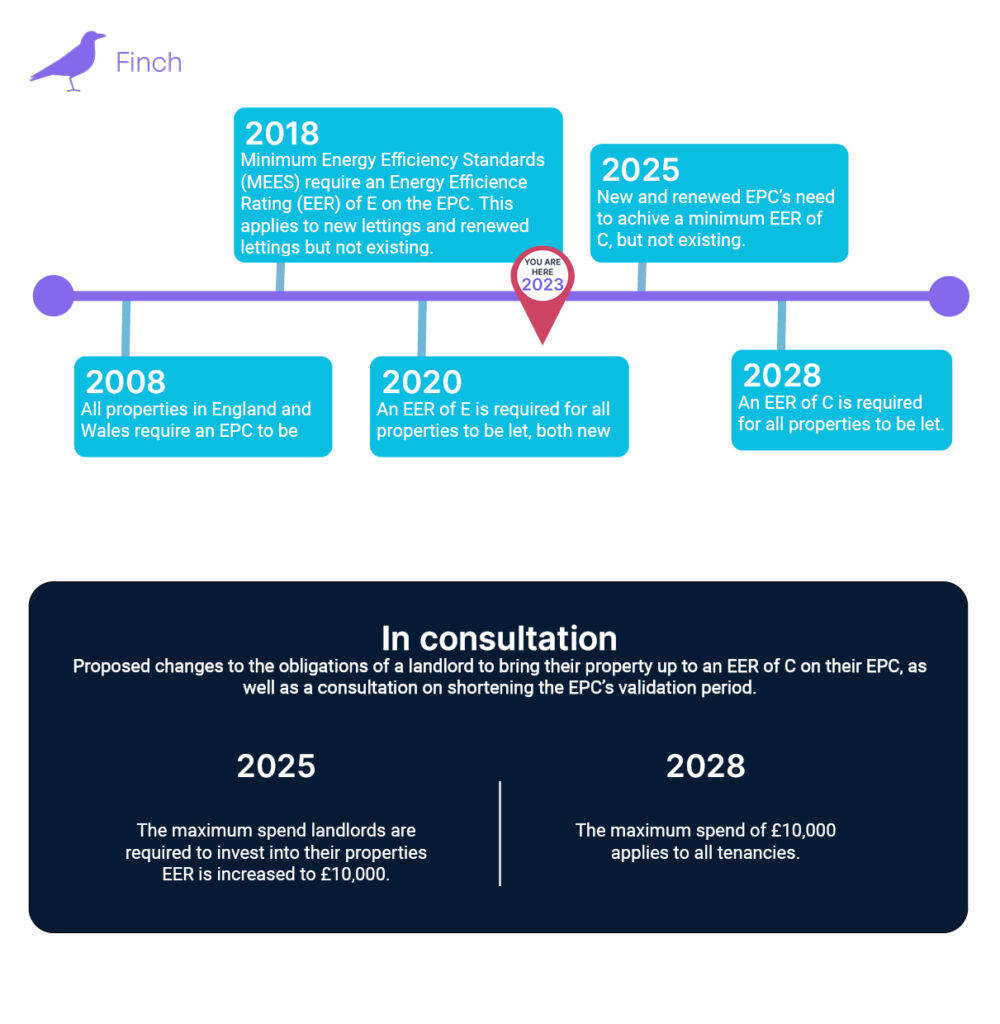 If properties aren't upgraded, then what?
It is a Government requirement that properties meet an EER of E or better before being let. If the properties aren't upgraded, and exemptions aren't requested, then the local authority may issue the landlord with a financial penalty.
Here are the penalties presented on GOV.UK
The maximum penalties amounts apply per property and per breach of the Regulations. They are:
up to £2,000 and/or publication penalty for renting out a non-compliant property for less than 3 months
up to £4,000 and/or publication penalty for renting out a non-compliant property for 3 months or more
Documentation:
up to £1,000 and/or publication for providing false or misleading information on the PRS Exemptions Register
up to £2,000 and/or publication for failure to comply with a compliance notice
Maximum amount you can be fined per property is £5,000 in total. – GOV.UK 
Top 3 reasons for properties failing to achieve the required rating to let
There are a few reasons why an EPC rating might be lower than expected. These are some of the major culprits for poor energy ratings:
A large portion of walls being poorly insulated, allowing them to lose heat.
Similar to the walls, having no or little loft insulation.
Poor heating – specifically, having electric-only heating can significantly reduce performance.
Helping your landlords meet the standards
Determining the rating of your landlords EPC is easy through the Find an Energy Certificate portal, where a postcode search will provide the energy rating along with the valid until date. 
It is important to consider your landlords compliance with the up-coming changes around MEES,  proposed reduction for the EPC validation periods and the proposal for the minimum spend to increase from £3,500 to £10,000 before exemptions can be requested.
An example of where a landlord might need guidance
The Property is currently rated as an E and needs £3,500 spent to bring it to a C for 2025.
Following the £3,500 spent, the property is still only rated as a D, but the 'all improvements made' exemption has been granted allowing a certificate to be provided,  the EPC is valid for 10 years, but the exemptions are only valid for 5.
In order to begin a new tenancy, the landlord will need to comply with the MEES by holding an EPC for the property with an EER of C or better. As exemptions only last 5 years, the original EER would expire and an amount up to a cap of £10,000 could need to spent to upgrade to a C, before any further exemption can be re-made. 
If the property is let after 2028 and the spending cap is raised to £10,000, The landlord may find themselves having to pay an additional £10,000 on top of a recent £3,500 spend for a valid EPC. 
Guide landlords through the changes to Energy Performance Certificates
Using a digital process to manage this for your landlords is the obvious solution, but it will need to go beyond a CRM filing system. For many agencies they will be faced with a large number of landlords, some of these landlords will have multiple properties and all of their EPC's will have 10 year expiration dates at differing times.
An action plan as an agent could be a written proposal or suggestions list to the landlord to help them continue to let their property over the coming years to educated on the EPC changes and where possible, propose your suggestions on how to navigate these changes most effectively. Summarise the requirements as stated above, specifically highlighting the issues to those landlords who are (or will be) in the wrong band, making sure that they are clear on the regulation changes. 
The best way to achieve this; remind them which band their property is currently in, explain the penalties for non-compliance and importantly, to highlight the potential benefits of moving up the energy rating grades as it relates to sale value in the future. Finally, you may want to point your landlords toward the Governments "Green Deal: energy savings for your home" as well as checking that a Green Deal company they're using is genuine. 
Ultimately this is all about bringing landlords up to speed and helping them to prepare their properties for the change without falling into any avoidable pitfalls.
With EPC changes still in consultation, sign up and keep updated on all the latest changes