The world of legal authorisation via signatures has changed dramatically over the last 10 years across all industries. For a time, UK laws and regulations in the property market held back the pace of change for us, as certain documents and authorisations were still required to be done in-person, or physically 'wet-inked'. However, this has progressed and recent regulations (eg. within conveyancing) now enable us to perform the vast majority of all legal authorisation processes online. This is also stretching to digital ID verification too, which means we aren't too far from the new normal for property purchases and rentals being a fully remote and digital experience.
In our conversations with estate agencies and property management firms in the UK over the last year, we've found that most (~60%) agencies are now using some form of electronic signature (e-sig) platform to execute legal documents, either as part of their CRM, or as a standalone service. This was also confirmed by a recent survey we conducted on LinkedIn with ARLA members. Those remaining ~40% of agencies who aren't using e-sigs are, on the whole, at least using PDFs attached to emails rather than sending letters in the post (the 'old-school' way).
The downsides of executing legal document authorisation, using either of the above methods, are well recorded online – I highly recommend that you read this tongue-in-cheek article that covers the topic better than I could myself.
So today, I wanted to highlight… 
The top 5 advantages of e-sig platforms
1 – It's paperless!
This means documents can be signed anywhere, any time, and on any device. It also means multiple people can interact with the document at the same time, and usually they'll be able to see the actions of other viewers/signers (meaning multi-signatory documents don't need to be passed between co-owning landlords, for example, without the risk of papers being lost or duplicated).
2 – There's a significant cost reduction.
By not having to send paper all over the country (and indeed the world, for larger agencies and those specialising in overseas buyers or investors) you'll be saving on printing, scanning, storage, postage, and myriad other costs. Another aspect often overlooked is the cost of the time it takes to administrate traditional paper document signatures – every hour spent waiting around for the printer and sticking postage stamps on envelopes adds up to reduce your margins! Finally, the reduced environmental impact to our planet is huge, especially when we consider that, even today, there are still an estimated 20 million trees being cut down in the USA alone to make paper for business purposes.
3 – It provides an auditable central document repository.
With everything being transacted (sent and received) digitally, multi-branch agencies can conduct work between offices more efficiently and share documents instantly, knowing there is a central repository that is consistently tracking all activity. This historic record of activity is therefore auditable and compliant with current data availability and retention regulations.
4 – It's more efficient and promotes data accuracy
By building a guided user journey (including signposted prompts and instructions) around the document and signing process, electronically signed documents often result in fewer input errors at the sender and receiver's end. The ability to flag and quickly correct any mistakes also reduces the back-and-forth of old, having to create new copies and wait for fresh paperwork to be issued. Research also shows us that there is, on average, a decrease in turnaround times of 32%, meaning more documents/agreements can be executed in the same period of time and the overall legal process has increased velocity.
5 – It's more secure
There are multiple levels of security that can be enforced in an electronic signing process, meaning the type of authentication required can be matched to the specific use case in hand. This results in a stronger level of authentication (known as 'qualified' or 'advanced' signatures) for critical legal documents, reducing the opportunity for fraud and identity theft. It also means that for more common processes, for example those that simply require a declaration of acceptance, a lower level of authentication can be used which is quicker and easier for the user (known as 'simple' signatures). E-sigs are also globally recognised under legal frameworks and standards, meaning you can issue them almost anywhere in the world and know that your signature constitutes a binding legal agreement.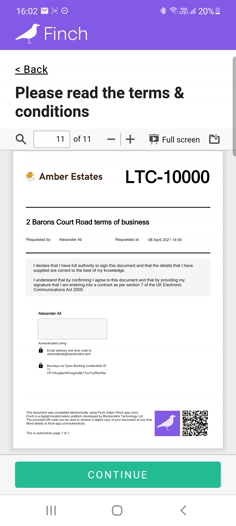 If you are considering upgrading your current document signature process to incorporate electronic signing, you might want to consider Finch's own e-sig tool. We built the platform with property use cases in mind, so not only do we functionally execute the signature, but we also have some smart features such as 'just in time' data merging, multi-tenant and multi-landlord functionality, and the ability for recipients to supply information alongside the submission of a document (in the same workflow).
If you'd like to find out more about our solution, or generally get some advice on how to digitally optimise your processes, you can book a call with us using the button at the top of this page. Or, feel free to reach out to me directly via email – tomparker@finch-app.com
You can also join the conversation over on LinkedIn with our MD, Rob Chapman.