The property industry has been criticised on occasion for lagging other industries in the adoption of new technologies. In KPMG's 2019 Proptech survey, the author commented that "compared to other sectors, real estate is a dinosaur when it comes to evolution" and that "the challenge for the property sector is to mobilise its technology strategy quickly enough to manage change".
However, in recent years, the introduction of Open Banking technology has started to make a real impact on the way in which properties are bought and sold, rental monies are transferred, and estate agents collect their fees. As Tom Walker, co-founder of StuRents, commented; this technology revolution is sorely needed after the "2018 card fee ban, coupled with the recently introduced ban on tenant fees [in 2019]", with a whole new emphasis being placed on the "need for cost-efficient and frictionless payment mechanisms" in order for the businesses to retain their margins after these regulations took effect.
When we add the pressures of Covid-19, the sudden and necessary move towards virtual viewings, resulting in a lack of face-to-face interactions between agents and their customers, and new regulations that allow fully remote document validation, we are now in a situation where the addition of frictionless banking technology is almost a must-have in order to ensure agents can keep on top of the ever-changing landscape.
Not only this, but the virtues of Open Banking stretch far beyond necessity. When implemented correctly, it can also help to prevent and reduce 'unauthorised remote banking fraud', which has been steadily rising over the last few years according to UK Finance. In the first half of 2020, financial losses (£) from fraudulent activity in the UK increased by 21% compared to 2019, and the number of reported fraud cases increased by 59% over the same period.

This tells us two things; 
Firstly, remote fraud (defined as fraud being conducted over the internet, email, and phone) is becoming an ever-present issue across all sectors in the UK, including the property industry. 
Secondly, the fraudsters are targeting smaller businesses and individuals on a more regular basis, for smaller amounts of cash. This means that your customers, and your agency, are ever more likely to be targeted. And unfortunately, "In the first 6 months of 2020… only £6.95 in every £10 of attempted fraud was prevented… equating to a total of £181.5m".
There are also ways that monies can disappear into the wrong account through non-fraudulent activity. Simple human error accounts for as much as 49% of all incorrectly transferred data between two IT systems or programmes. So there is a real risk that when the bank details of a tenant or landlord are exchanged via email or over the phone, and the agent keys that data into your CRM or accounting system incorrectly, the rent or move-in monies could end up in the wrong place.
The fact that banks are typically able to recover 98% of fraudulent and incorrectly directed funds back to the sender (according to UK Finance) shouldn't be an excuse for us not to take this issue seriously, though. The amount of admin required from your accountancy team, or agents, to contact the bank and inform your customer can really pile up – all time which could be better used to market more properties and help customers find their dream home (what an estate agent should be doing 100% of the time, if they could!).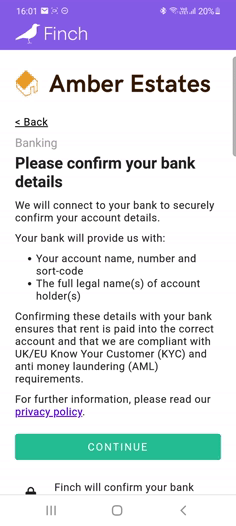 Open Banking can help us solve all these problems, and more. As Alexander Badalyan from Mashroom rather nicely summarised; "Collecting rent has always been a tedious manual process with high processing costs. State-of-the-art [Open Banking] technology means we can provide [secure and] compliant access to banks for data and payments requests".
At Finch, we're exploring Open Banking enabled payments to do exactly this. The tech also allows us to draw down information about the account holder's identity and their balance and transaction history. This means agents can quickly and securely understand whether the customer is who they say they are, and whether they can actually afford the purchase or rental they've applied for.
On top of this very functional application, the integration of Open Banking into customer-facing processes also makes things quicker, easier, and improves customer experiences. Token co-founder and CMO, Marten Nelson, recently stated in an interview that "Open banking is not just about banking and financial services; it is about democratizing access to data to create better digital experiences that can supersede outdated and expensive processes".
We couldn't agree more, and this is exactly what we're doing at Finch. You can check out the video on our homepage which gives a 2-minute overview of how we have delivered a truly modern and seamless customer experience by bringing Open Banking and other technologies to the UK property industry.
We're really excited about further developing the Open Banking tech within the Finch platform and welcome feedback from our partners and customers. Have you experienced any of the issues highlighted in this blog post? Or perhaps you've got some ideas about how we could reduce financial administration and improve customer data collection processes in your business?
Drop me an email to discuss it further; tomparker@finch-app.com
Or, join the conversation with our MD, Rob Chapman, over on LinkedIn.